As the eventing show season has just resumed, Marie-Charlotte Fuss, double gold medalist at the Young Rider European Championships with her amazing Sillas de la Née, shares her experience and reveals her secrets regarding physical preparation.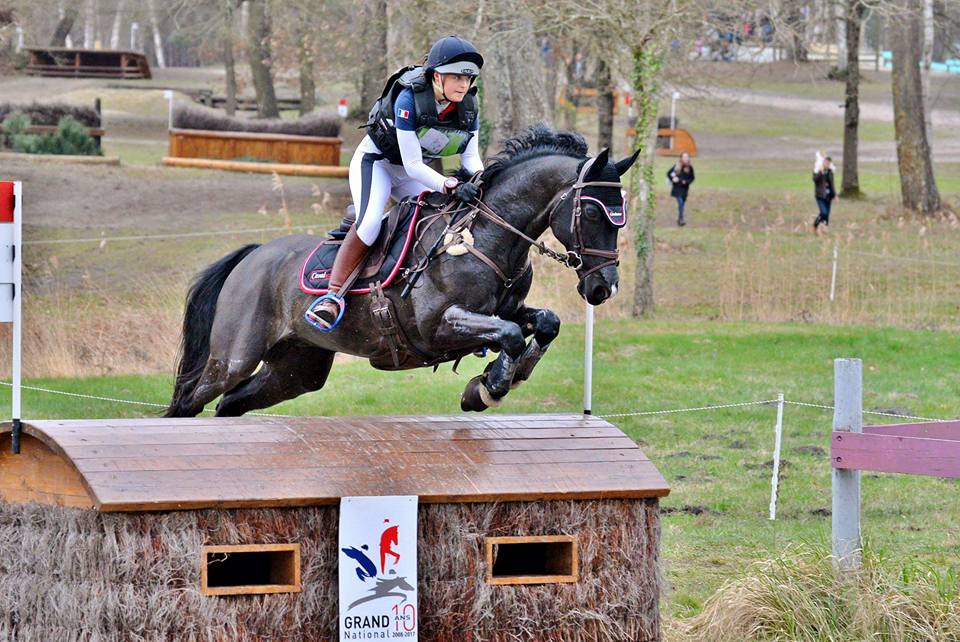 Indeed, eventing is a demanding discipline that requires a long-term training and a proper physical condition.
1. When do you start preparing your horses for show season?
« During winter, I work on keeping them fit; I do not completely stop training. They then slowly start galloping again at the beginning of the year. »
2. How do you organize your horses' training during this period?
« On average, they gallop once every two weeks. The rest of my training sessions is divided between flat work, jump work, lunging and cardio training. I give them a day off on Sundays. As for Hakuna, my 5-year old mare, she does not gallop because it is not necessary yet. »
3. Do you focus on one discipline in particular?
« I put a lot of emphasis on dressage. My horses do not jump very often, I find that once a week is enough. I also work their physical condition a lot through cardio training sessions. I of course adapt the number and intensity of training sessions depending on the objectives I have set. »
Photo© Nicolas Hodys
4. What do you expect from your horse?
« During gallops, I try to get them to relax, which is not always easy as they are often very happy to go galloping! »
5. What proportion of this preparation do you allocate to recuperation? What do you favor and recommend for a good recovery?
« The day following a gallop, I do a light cardio training, and they go back to their normal training the next day. As for recuperation, I favor active recuperation: after work my horses trot for a while, well relaxed, and then I take them to the ford to cool their limbs down and let them have some fun! »
6. In addition to this physical preparation, do you work on the mind of your horses? If yes, how?
« Yes, I do try to pay attention to it! It is important to me that they are happy to work. Whenever I have time, I like to put them at liberty in the round pen so they can play a little. In addition to that, they often go out and are regularly turned out in paddocks so overall I think they are pretty happy (well, I hope so ☺ ). »
7. What must be avoided during this preparation period?
« It is important not to "over" prepare them, and keep in mind that it is only the beginning of the season so as not to bore them before shows even start. »
Photo© Nicolas Hodys
8. Are there rules to follow before and after an intense effort?
« It is necessary not to feed the horse a few hours before an effort, and properly warm him up so the session can start in good conditions.
At shows, for high-level events, we measure the heart rate immediately on arrival, cool the horse down, and then walk him until the vet gives their ok.
After that, everyone has their own method. My horses are hosed down and we ice their limbs for 30 minutes. We repeat this twice, and then for the night we put clay on their limbs with wraps. We of course make sure the horse has enough water and we check that his behavior is normal. »
Horse's heart rate while training
9. How will the Seaver girth be useful to you during this preparatory phase?
« The Seaver girth will help me track my horses' performance during training. I will also get precious information on the intensity of the effort I am demanding of them, and I will thus be able to adapt their training. »
10. And how do you get prepared? Do you practice other sports than riding to physically get ready?
« I am lucky to be part of the Livio Stable that organizes a 2-hour weekly sports session with a coach, to which I participate. In addition to that, I have a rowing machine at home that I use twice a week and I also go running on Sunday mornings when I am not at shows. »
11. One last advice to conclude?
« To always listen to your horse in order not to go "too far" and have a horse in great shape on D day! »
Photo© Nicolas Hodys
The Seaver team
*A very big thank you to our amazing Ambassador Marie-Charlotte for this article ☺