December is here, winter is right around the corner, and it is already quite cold outside… Horses are growing their winter coat, and riders are starting to ask themselves a lot of questions: should my horse be clipped, should I use a blanket, which one, when…? Rest assured, this article should give you the answers you need.
Why blanket a horse?
In winter, the horse's coat is thicker, longer, and more impermeable to create a thermal insulating layer and be protected from the cold, wind and rain. Because of their nature, horses are not supposed to suffer from cold weather or need a blanket to keep warm. A horse kept outside, who does not work regularly and has a shelter in his field, can spend winter 'naked'. Indeed, by living outside the horse has progressively adapted to the temperature and grown an adequate coat.
"Generally, the critical temperature – under which it is necessary to help the horse fight the cold (additional energy intake, protection, shelter) – varies from - 15°C for adult horses to 0°C for foals and - 22°C for newborns." – Dr. I. Mennecier (1)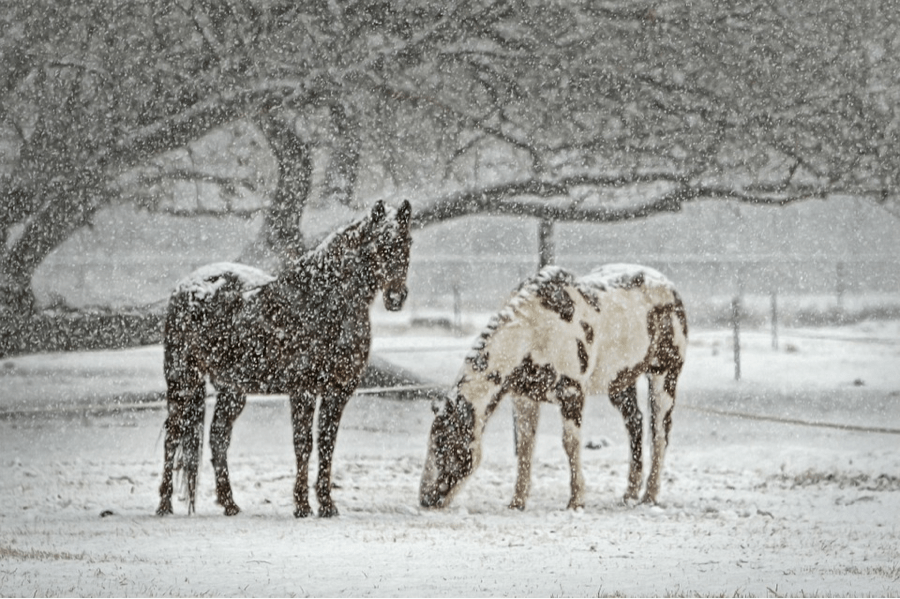 However, horses' living conditions are different now and thus we must take a few additional factors into account. A horse (unclipped) living in a stable will be much more sensitive to temperature changes than a field horse, and might need a light blanket at night. Temperature of course has to be considered; an unclipped horse will not necessarily need to be blanketed by 5°C but will require a blanket if it is -12°C outside. Horses should still be considered on a case-by-case basis, as not all of them will have the same needs. Indeed, some breeds are more rustic than others, and not all horses grow a coat of the same thickness – and thus do not all have the same resistance to cold.
In some cases, particularly for an old or sick horse, it will be necessary to cover the horse. It is possible to limit the growth of the horse's winter coat – and thus reduce the amount of sweat produce when working – by putting a light blanket early on to 'stop' this natural metabolism. The coat will be thinner and the horse will be easier to cool down and dry after a training session. To avoid these issues, many owners make the decision to clip their horses for winter: these horses must then absolutely be covered up with appropriate blankets.
The clipped horse
 Horses that are regularly worked will often sweat a lot. To avoid this, they can be clipped during autumn months. Indeed, an increase of sudation will lead to a higher fatigue for the horse, a loss of electrolytes, and the risk of catching a cold after training because of the time it will take the hair to dry.
There are different types of clipping patterns, and it is very important to pick the right one based on the lifestyle, health and training intensity of the horse. The lighter one is for horses with a light workload: only the parts of the horse that sweat the most (the chest and underneath the neck) are clipped (trip clip). To prevent sweat and potential injuries at the girth area, some people choose to also clip the horse's belly (Irish clip).
Other clipping patterns are used for horses with a more regular and intense training. These 'heavier' types of clipping patterns consist in more or less clipping the neck, stomach, thighs and limbs of the horse (trace and blanket clip). Horses with a hard workload like sports horses can be almost entirely clipped, leaving only hair on the legs and on the back in the shape of the saddle (hunter clip), or even fully clipped (full body clip). In general, it is advised not to clip the horse's wither area, as it is quite sensitive. For these clipping patterns, the horse will need to wear a blanket in the stable and will also usually need to be covered up during training, at least at the beginning of the session, to prevent a cold.
"A clipped horse does not have the same lower critical temperature (it will be closer to 5°C), and must absolutely wear a blanket to go outside" - Dr. I. Mennecier (1)
The different types of blanket
There are several factors to consider when picking a blanket; its strength (expressed in deniers), warmth (gram fill), impermeability, fabric, and quality. The different materials of a blanket include polyester, polypropylene, or nylon for lighter sheets, and synthetic fibers for heavier warmer blankets.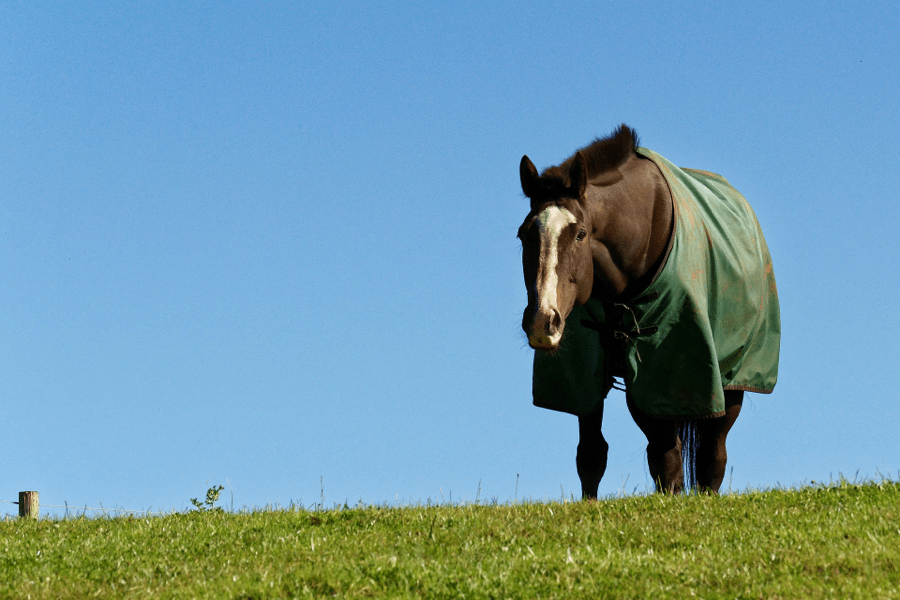 A stable horse will usually wear an interior blanket, while the exterior blanket will most likely be put on outside horses. Quarter sheets will also be used in winter, during training sessions. The warmth of blankets is expressed in gram fill (from 100g to 400g); a high score corresponds to a warm blanket. This allows people to choose the proper blanket for their horse; they will pick a sheet with no fill or a blanket with a light fill to protect an unclipped horse from rain for instance, whereas a warmer blanket with a higher gram fill will more likely be used to protect an old or clipped horse from cold.
An unclipped horse should usually not need blankets with a gram fill higher than 200g. On the other hand, the owner of a clipped horse might need to purchase several different blankets for their horse, and switch them depending on the weather and temperature.
A few tips for a smooth winter
It is important that outside horses have a clean and healthy shelter they can use to protect themselves in case of bad weather. A thick layer of bedding will allow them to comfortably lie down and keep warm. It is possible to create an additional insulator by leaving a thin layer of manure on the ground underneath the bedding. Special attention should be given to the horse's legs, as mud can cause skin problems (e.g. mud fever, rain rot…) and hoof issues (e.g. sole bruising, abscesses, thrush…), among others, that will need to be quickly taken care of to insure a better recovery process.
Stable horses, although they do have the additional protection of their stall, should not be neglected in winter. When nights will be very cold, they will need an (other) blanket, and it will be wise to close the doors of the stable and/or stall shutters to keep them from being cold.
In winter, nutrition is an important factor to look into. Despite the cold, horses will of course still need to drink a lot. Therefore, it is important to make sure they always have clean water available, and check it is not frozen – whether they are kept in a stable or a field. Putting a piece of wood in the trough will not always be enough to prevent the water from freezing; one of the solution not to have to break the ice and replace the water at least twice a day would be to invest in heating devices for waterers and troughs.
It can be necessary to adjust horses' diet, as in winter they will spend more energy to warm up, just like us. Some horses might also need supplements. Furthermore, it is important that horses have a good quantity of hay (free-choice if possible) available at all times, and particularly in winter.
Finally, when training, riders must take the time to properly warm up their horses by walking them for at least 10 minutes before starting to work when it is cold. Training sessions should not be too intense in winter, and riders should allow several recuperation periods to prevent their horses from sweating too much. After, it is essential that they take enough time to cool them down so they don't catch a cold, with the help of a cooler for instance.
The Seaver team