In several French departments, outbreaks of the EHV-1 virus – the equine rhinopneumonitis, which can be deadly - have been confirmed. There are several forms of the virus, one that causes abortion, and others that cause respiratory infection and neurological symptoms. All forms have been detected. The French RESPE (French Network for the epidemio-surveillance of equine diseases) has declared a total of 22 epidemic sources as well as about 200 sick or suspicious horses, primarily sports horses (figures from April 27).
Map of affected horses in France (cases confirmed by laboratory tests) from January 29 to April 24 2018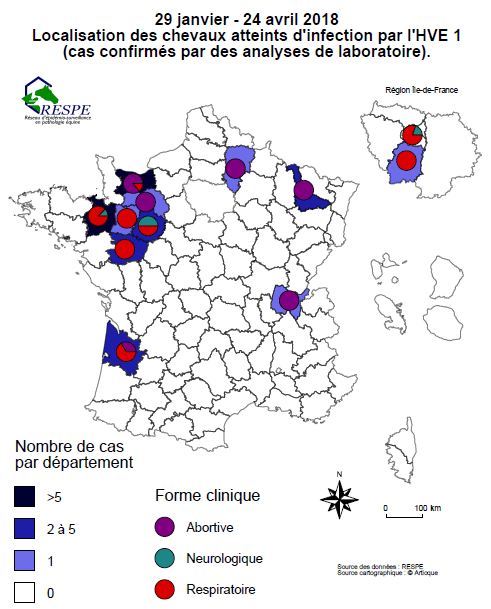 Following this outbreak, show riders from these and surroundings departments have had to face the cancellations of several shows in France, to try to prevent the spread of the epidemic.
Equine Herpesvirus-1
Indeed, the EHV-1 virus is an infectious and highly contagious disease from the herpesvirus family that is easily transmitted by infected horses, as well as by healthy carriers of the disease (they do not show symptoms but can become contagious). The disease spreads through direct contact; through respiratory secretions (for the respiratory form), uterine secretions or contact with an aborted fetus (for the second form).
Symptoms to look out for: fever, respiratory distress, coughing, nasal discharges, hyperthermia, fatigue, weakness, depression, loss of appetite, abortion. Vaccinated horses will have attenuated symptoms. These symptoms will usually appear 2 to 10 days after contamination. Finally, the most severe and advances cases of the neurological form of the disease might suffer from paresis, and losses of balance and consciousness.
Treatment: there is no treatment against the form that causes abortion, and treatment for the respiratory and neurological forms will only help attenuate symptoms.
Precautions to take during an epidemic
- Be up-to-date with vaccins
You should give the booster vaccine to horses that were vaccinated 6+ months ago, and vaccinate non-vaccinated and non-exposed horses. The vaccine will start having effects 4 to 6 weeks after the first injection
However, it is not advised to vaccinate exposed horses
- Limit your horses' movements as well as their contacts with others horses
- Use your own material, assign material to each horse (tack, bucket, etc.) and disinfect the material used
- Isolate new horses and horses coming back from travelling
To conclude
Stay alert for this virus, take the necessary precautions and respect the recommended measures to prevent its spread.
In case of doubt, call your vet to have the horse tested (a nasal swab and blood sample will confirm or not the presence of the disease). If the horse is infected, do not forget to declare it.
Currently, the RESPE « strongly advises to sites of public gathering that recently housed sick or suspicious horses to suspend their participation to show and stop organizing events in their facilities. » They also « encourage horse owners who participated to shows in risky geographical areas (where the epidemic has been confirmed) to increase the monitoring of their horses as well as not to go to any show/event if they horse is infected, or if there is any doubt, not to go before they get negative test results back. »